The Ultimate Guide to Harvesting Jalapenos
Do you love jalapenos? The fiery, hot, and delicious jalapenos pepper go super well on salads, salsas, dips, and pizza toppings. They give your meals a nice and spicy flavor and make them even more lip-smacking.
The best thing about jalapenos (apart from their hot and spicy taste) is that you can grow and harvest them in your home garden. Yes, you read it correctly! Jalapenos can be easily grown at home, and you can enjoy fresh, 100% natural home-grown peppers whenever you want!
Harvesting Jalapenos
If you are a gardener and want to plant and harvest jalapenos but don't know how to start, this blog post is for you. Harvesting your jalapeno peppers correctly at the right time is as important as planting them. If you do not harvest your jalapeno peppers at the right time, they can turn black or rot, ruining your efforts.
But don't worry! This blog post will clear all your doubts about when to harvest jalapenos. Read on!
What are Jalapenos?
Before we start with the main question, let's first quickly understand what exactly jalapenos are. Jalapeno is a chili pepper that is glossy and bright green. When fully ripe, a jalapeno pepper turns red.
It is a medium-sized, mildly spicy, and hot pepper. It is rich in potassium, Vitamin A, and Vitamin C. Thus, jalapeno peppers will make the perfect addition to your home's garden.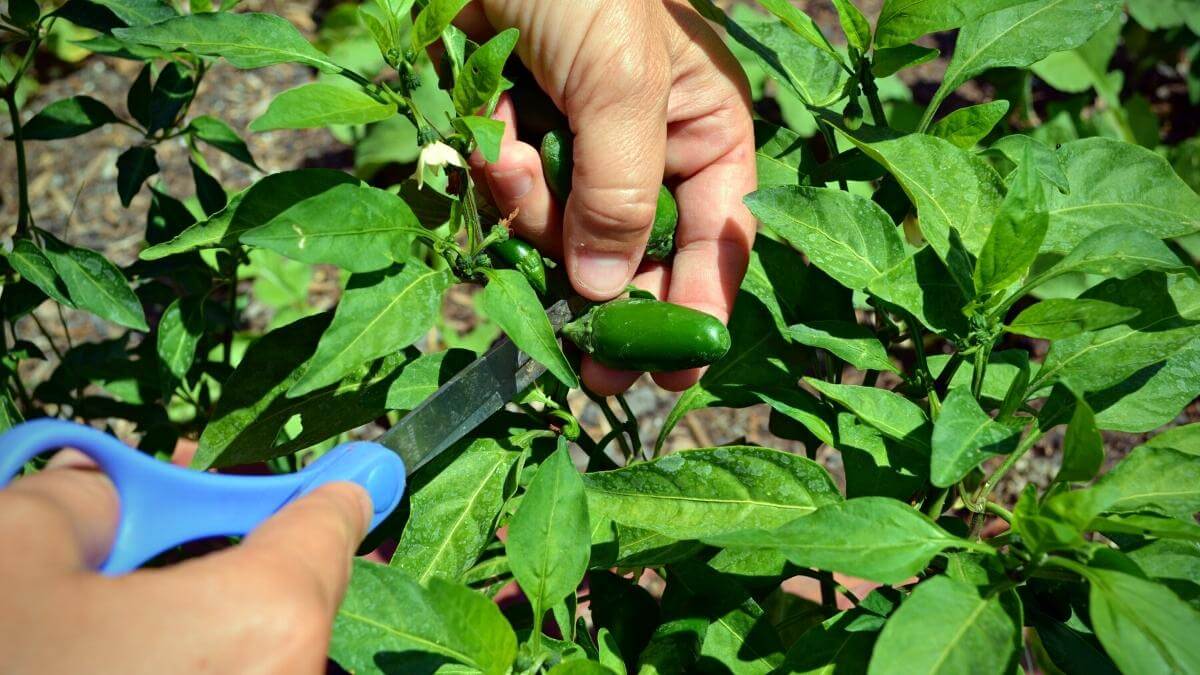 How to Plant Jalapeno Peppers?
Planting jalapeno peppers is relatively easy and similar to growing bell peppers. For best performance, you should always start the plantation by sowing the seeds indoors during the early spring months.
Love harvesting jalapenos? Read our Chili guide!
How to Grow Chili Peppers Indoors: The Ultimate Guide
Make sure to add ample compost to the soil and use organic fertilizers only. Your goal should be to stay away from toxic and chemical-based gardening products.
Once you have planted your seeds, you can use artificial grow lights to speed up germination and sprouting. Keep your soil nice and moist but do not water it daily. Jalapeno plants only require an inch of water per week to grow. So, ensure not to over-water it as it can hamper their growth.
The best way to avoid overwatering is by feeling the soil with your finger. If you think it is moist enough, do not water the plant. Water the plant only when the top layer of the soil feels a bit dry.
Once your jalapeno plants start growing, you can transfer them outside. The best time to plant jalapenos outside is late spring.
So, you can sow the seeds in the early spring months, let them grow and develop in your home, and then transfer the baby plants to your backyard or garden during late spring. Remember, jalapenos thrive in full sun and require a lot of organic matter to grow correctly. So, the more sun and nutrition you give them, the better their performance will be.
When to Harvest Jalapenos

? – Top Things You Must Remember
Figuring out the right time to harvest jalapenos can be tricky. But it is one of the most crucial parts of growing jalapenos. If you pick your jalapeno peppers too soon, they may remain underdeveloped, tastes sour, and are incredibly bitter. On the other hand, if you wait too long, your jalapenos will turn black and become unfit for consumption.
Thus, to enjoy fully ripe, spicy, and delicious peppers, you must learn how and when to harvest jalapenos.
If you have ever grown bell peppers, you'd be aware of certain signs indicating they are ready to be picked. Like them, jalapeno peers also give several signs, through their size and color, showing the right time to harvest them.
Here's everything you should know about it:
Take note of the size
One of the best ways to find out whether your jalapeno peppers are ready to be harvested or not is by understanding their size. Jalapeno peppers come in several varieties, and the size of the fruit differs depending on the variety you have chosen.
For example, small varieties like Early Jalapeno yield fruit that are 2 to 2.5 inches long. On the other hand, larger varieties like Jedi Jalapeno can produce fruits that are as long as 4.5 to 5 inches.
However, most jalapeno plants generally produce fruits 3 to 4 inches in length. We recommend reading about the mature size and other important details on the seeds' description label before planting them. This will give you a clear idea about when your peppers are fully primed and ready to be harvested.
Understanding the color is essential.
Along with size, the color of the fruit is another strong indicator of its maturity. When jalapenos are young and not fully grown, they will display a glossy and light green color. On the other hand, a fully primed jalapeno pepper that is ready to be harvested is dark green.
Always try to pick your jalapeno peppers when they turn deep green. Such jalapeno peppers have a fantastic taste. Because they are not fully ripe – fully ripened jalapenos are red – you can easily store them in the refrigerator for future consumption.
Usually, jalapeno plants take about 5 to 6 months after their planting to turn deep green.
If you like your jalapenos to be super spicy and have a bit of sweetness, you can wait for them to turn red. Red jalapenos are fully mature and are much spicier than deep green jalapenos.
Make sure to pick the fruits as soon as they reach your desired color. If you wait too long, the fruit can start turning black and even slow down the growth and production of new jalapenos.

Notice the corking
Another super effective way to understand whether your jalapeno peppers are ready to be harvested or not is by checking the signs of corking.
Corking is a condition in which the jalapeno peers develop small and fine white lines on its skin. This condition indicates that the fruits are primed and ready to be picked.
How to Harvest Jalapenos
Apart from figuring out the right time for harvesting jalapenos, it would be best if you also learned the correct technique. Simply pulling or tugging the peppers will not work at all. If anything, doing so can harm your fruit.
Here are some tips to help you get started:
Removing the jalapeno peppers from their plant becomes challenging, and you will be tempted to pull them from the plant. But it is crucial not to do so. It can break the stems and branches and even harm unripe fruits.
The best way to remove the peppers from the plants is by using garden snips or shears. Use these tools to cut the tip of the fruit from the branch and then carefully keep them in your basket or container. Follow the same process for snipping all the jalapeno peppers.
Always try to pluck the peppers from the plant so that it doesn't shake or disturb the entire plant.
Generally, fully primed jalapeno peppers come off the branches effortlessly. You won't have to tug or twist them at all. Thus, if you have to use a lot of effort into removing the peppers or if they do not come easily, it indicates that they are still growing.
Another important thing you must remember is that jalapeno peppers can continue ripping even after they have been plucked off from the plants. So, your deep green pepper can become slightly red after a few days.
Along with picking jalapeno peppers correctly, it is also essential to store them in the right way. You can store the peppers in a paper bag and keep them in your refrigerator's crisper drawer. They will stay fresh for a long while, and you can use them wherever needed.
You can also store the jalapeno peppers for the entire winter. The best way to do this is by chopping the peppers or cutting them into slices and then freezing them. Make sure to use proper freezer bags specifically meant for freezing veggies.
Summing Up
We hope you found this blog post helpful regarding harvesting jalapenos, and that we were able to offer you some valuable pieces of advice. So there you have it! That was all about when to harvest jalapenos and the right way to do it.
Make sure to use these tips and tricks while planting and picking your jalapenos. You will be able to grow and enjoy the perfectly mature jalapeno peppers with your family.
Related Posts